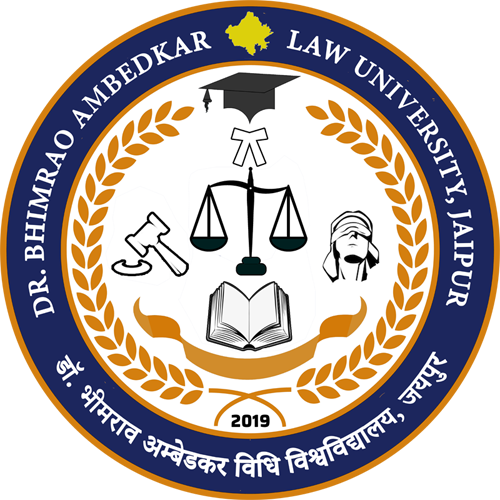 The aesthetic and iconic Logo of Dr. Bhimrao Ambedkar Law University reflects the unique vision and mission of the institution. In it, three symbols for justice and effective jurisprudence are placed centrally, while another three symbols for the legal profession find a place in an intersecting vertical shaft. Together these six symbols signify the core values that the University wants to uphold and impart to its students. The founding year of this new institution is displayed in an eye-catching manner, as is the map, which pays homage to the State of Rajasthan.
THE LOGO COMPETITION
The logo is the result of a creative exercise launched by the University which consisted of inviting artists for a nationwide competition to design the logo in January 2021, in which 665 artists submitted their work. A prize of Rs. 50,000 had been instituted for the winning entry. As a result of the thorough and rigorous exercise, 12 entries were shortlisted out of the 223 valid entries. These were then placed before an eminent jury consisting of among others, Dr.(Mrs) Pankaj Mittal, Secretary-General AIU(Chairperson), and eminent artists namely, Prof. S.H. Qazi, Dr. Krishan Ahuja, Dr. I. U. Khan, and Dr. Lokesh Jain. Out of the many beautiful entries received, the chosen logo, created by Sh. Vishal Saini from Jhunjhunu, Rajasthan stood out for its clear reflection of the vision of the University.
ADOPTION AND RELEASE OF LOGO
The Logo was duly approved and adopted by the Board of Management in its 5th Meeting held on 30th January 2021. The Logo was formally released by the Hon'ble Chief Minister Sh. Ashok Gehlot on 26th February 2021, on the occasion of Foundation Day of the University, in the presence of Vice-Chancellor Dr. Dev Swarup, Secretary, Higher Education, Smt. Shuchi Sharma, Consultant Academics Prof. Mridul Shrivastav, Comptroller Finance Shri Varun Mishra and the Registrar Shri Raj Narain Sharma.